Join us on the  Wonderful Sail 2 Indonesia Rally,  and discover all the best of Indonesian culture and history, fun events and interaction at a grass roots level. At many of the festival program destinations you will also enjoy activities hosted by the local people.
The  Festival Program is an Indonesian Ministry of Tourism initiated program and is constantly evolving with new events added from time to time.
The Rally Team and the MoT are currently refining the details for this years rally, see the Preliminary Event Schedule below. To keep up to date with information as it's confirmed by Expressing your Interest by filling out the EOI form, simply click HERE
Preliminary Program for the 2022 Event Schedule.
AUSTRALIA 
AUSTRALIA May, June – Cruise the Queensland Coast  –  6th – 8th July Departure from TI
CAIRNS – Participants in the  2022 Sail 2 Indonesia Rally will be able to collect their rally packs at the Cairns Cruising Yacht Squadron from late May. Boats can then  head for the departure at the Torres Straits at the pace that suits them, and enjoy the beauty of this magical coastline to the fullest.
TI MUSTER – After enjoying the Far Nth Qld coast participants will muster in the Torres St at Thursday / Horne Islands from the 1st July
4th July – BBQ at Wongai Beach Hotel – Adjacent Horne Island Anchorage.
CLEARANCE – Clearing out of Australia can be done from the 6th to 8th July for immediate departure. Distance to Debut approx 700nm . Skippers should chose their departure date based on passage speed for their vessel and the weather conditions at the time, for an anticipated arrival at Debut 15th July.
Your hosts Cairns are the Cairns Cruising Yacht Squadron
For more info on the Queensland Coast Program Click HERE
BOATS TRAVELLING DIRECT FROM OTHER DEPARTURE POINTS
Can travel direct to Debut from any departure point
The 20202 Program – Up to date program information and briefings for the fleet will be held at Debut by Indonesia Ministry of Tourism representatives, the date will depend on passage times and yacht arrivals.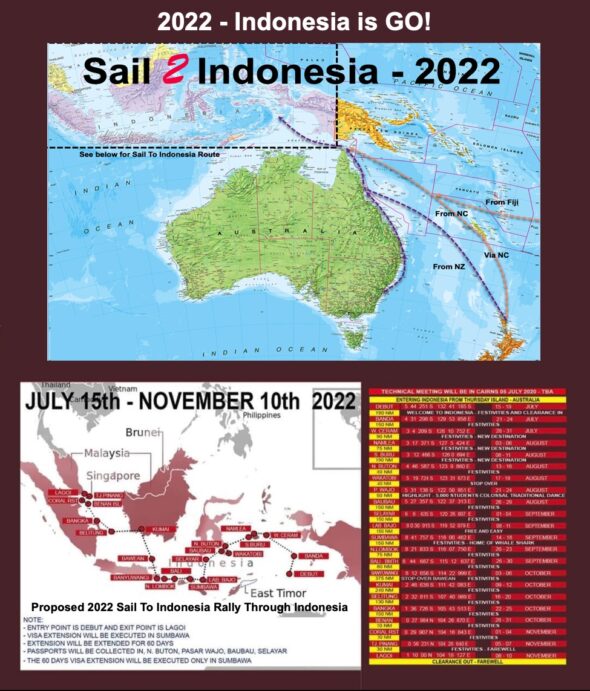 INDONESIA 15th   July – 10th November     
Debut (Sth East Molluca)                             
BANDA NEIRA (Banda Islands  
SOUTH BARU 
NORTH BUTON
WAKATOBI  
SOUTH BUTON
BAU BAU, BUTON
LABUAN BAJO 
SUMBAWA 
SECRET GILI ISLANDS LOMBOK  
N. BALI  
BAWEAN  
KUMAI  
BELITUNG 
SOUTH BANGKA
CENTRAL BANGKA
BENAN    
TJ. PINANG    (03 – 06 November) Rally Ends
NONGSA POINT MARINA    Exit Point
This is our exit point for Singapore & Malaysia and the end of the Rally.
The Route in Detail
Recommended Guides:
Cruising Guide To Indonesia:A Pilot Guide To Indonesian Waters by Andy Scott
101 Anchorages within the Indonesian Archipelago by Geoff Wilson
South East Asia Cruising Guide Vol II by Stephen Davies & Elaine Morgan
Southeast Asia Pilot by Andy Dowden & Bill O'Leary
At many of the destinations there will be activities hosted by the Local Governments.
The Route Information Below represents the 2018  Route and will be modified upon confirmation from the Indonesian Ministry of Tourism.
1.Debut (Sth East Molluca)                                Festivities
The Kei Islands (sometimes spelt Kai) are situated on the edge of the Banda Sea, and is the beginning of The Spice Islands. The group is made up of several islands and are sparsely populated. The area is known for their white-sand beaches and deeply hospitable people. The largest island in the group is Kai Besar which is densely forested and mountainous.The kei group are mainly Christian, but Tual has a mainly muslim population. Local history maintains that Kei islanders originally came from Bali. As part of the Majapahit Kingdom expansion. Kei culture is fascinating mix of religion and traditional beliefs. Local craftsmen are known for their skilful basketry, wood carving & boatbuilding.
Soil is poor and the locals use slash & burn agricultural practises, with rice, plantains, yams, maize & tobacco being grown. Spice production has reduced since the days of The Dutch east India Company. Cultured pearls are harvested at Kai Kecil. Fig, ironwood trees, palms and mangroves are common throughout the group. Numerous turtles are found on the reefs, and cuscus (a small, pouched mammel) as well as wild pigs inhabit the area.
Tual is the capital of the province and is situated on the island of Kai Kecil which is uplifted coral reef. There are fresh markets and good seafood restaurants in town. The airport is a 40 minute drive from the harbour which is serviced daily by flights from Ambon. The anchorage is a natural harbour and well protected, with a well marked channel. The holding is good. Take care if approaching through the narrows to the north.
ANCHORAGE:
Sand/  Mud bottom in 10 -20m
Banks & ATM, Market, Supermarket, LPG
fuel
Domestic Airport
BANDA NEIRA (Banda Islands)

           04⁰31S  129⁰53E
Part of the famed Spice Islands, Banda Neira is one of ten volcanic islands in the Banda Archipelago, historically known for the cultivation of mace & nutmeg, once exclusive to the region. The town still shows the remnants of the trading centre it once was. In the early 16th century, merchants flocked to the area to make their fortunes. Banda Neira is only one of three inhabited islands, with the biggest population.
The Banda Islands are reputed to have exquisite corals and abundant sealife, and is an internationally recognized diving destination.
Places of interest:
The majestic Dutch Fort,Belgica, sits in its lofty position atop the high hill overlooking Neira's Bay
ANCHORAGE: Suitable for approx. 20 boats
Sand bottom in 10 -20m
Market, Internet
Domestic Airport
3.NAMROLE (Buru Island)                                                       
Part of the Maluku group of islands, Buru is an oval shaped, forested covered island and the third largest of the group. The administrative centre for the  southern regency is the port of Namrole, the second largest town on the Island, situated on the southern tip of the island. Mostly mountainous, the highest point of the island is Mt Kapalatmada. The history of the island includes colonisation by the Dutch East India Company for clove plantations, occupation by the Japanese during WWII and imprisoning of political prisoners in the 1960's -70's. The locale populace is mainly immigrants from Java and nearby Maluku Islands, but around a third are indigenous. The population is mainly Christian within the regency, Sunni Islam is mainly in the northern part of the island. Income is generated by agriculture; mainly beans, sweet potato & soybeans within the regency. Fishing is also prevalent.
The island is home to 179 bird species and 25 mammal, 10 birds & 4 mammals are endemic, 3 of which are bats and the fourth the Buru wild pig. A wide variety of butterfly can also be found on the Island, in particular peridae & swallowtails.
Traditional Buru dwellings are made from bamboo with palm leaf or reed roofing. It is not uncommon to see them on stilts. Traditional dress is similar to other Indonesia islands, sarong and long tunic for men & sarong & shorter jacket for women, with only colour varying between different tribes.
ANCHORAGE:
Sand bottom in 10 -20m
Banks & ATM, Market, Supermarket, LPG
fuel
Domestic Airport
4  Buton Island
Located off the southeast peninsula of Sulawesi. The island is roughly 4408 sq km in size, and is covered in rainforest. The island has a massive reserve of natural asphalt as well as several other minerals. It also is a source of teak used in local boat building.
There are three stops on Buton island, North Buton, South Buton and Baubau Harbour. Baubau Harbour is situated on the southern access point to the Buton strait. Baubau is a major fishing and exporting port.
Places to visit:
The Keraton fortress overlooks the entire harbour.
The samparona & la Mogawuna waterfalls are a 2 hour, medium level hike
Nirwana Beach
Lakasa Cave full of stalactities & stalagmites as well as a spring at the end of the cave
Walk the Wantiro promenade
Visit the night market
5 WANCI (Wakatobi)  06⁰20S  123⁰32E
Situated adjacent to the Wakatobi Marine national Park on Palau Wang Wangi, Wanci is the main settlement on this small island. Relatively flat, a good way to see the island is by bicycle. Reputed to have plenty of good beaches and interesting caves. Wanci is a colourful place with a lively harbour filled with wooden local boats and a tasty night market.
ANCHORAGE:
Sand bottom in 10 -20m
Banks & ATM, Market, Internet
Domestic Airport
SOUTH BUTON
BAU BAU

LOWOLEBA (Lembata)

(12 – 15 August) 08⁰22S  123⁰24E
The Solor Archipelago along with Alors is renowned for some of the best diving locations. The Indonesian Through-Flow is very pronounced in the area bringing nutrients and clean clear water. The islands are volcanic and rugged in nature with steep coastlines. This area is mainly subsistance farming of vanilla, tamarind,almonds & other nuts, plus harvesting of sandal wood. Predominantly Christian, animistic rites & traditions are strongly practiced.
80km by 30km and rising to a soaring 1533m, Lembata is the largest island in the Solor group of islands. Home to Ililbalkan, Iliwerung & Lewotolo, all active volcanoes. The islanders are famous for their ikat weaving. Situated on the west side of the island is the Lewoleba (known also as Labala) adjacent to a huge bay. On the south coast is Lamalera village known as the village of the Whale Hunters, one of only two remaining whaling communities in Indonesia. The hunting of sperm whales, manta rays and occasionally dolphins, following ancient traditions, taboos and beliefs, happens during May until October. In 2011, two rare coral fish were discovered, the yellow-fin fairy wrasse and the swallowtail hawkfish.
Places of Interest are:
Take a tour up the volcano
Visit Lamalera Village of the Whale Hunters
ANCHORAGE: Protected and calm, with great holding. Awalolong Reef is the only danger in the area. Currents and eddies can cause boats to swing, so leave plenty of room when anchoring.
Sand and mud bottom in 6 -20m
Banks & ATM, Market, Supermarket, LPG, Internet, Laundry
fuel
Tourist Office next to secure dinghy dock
Domestic Airport
Kroko Atoll, off the coast of the island of Andonara is only 6 miles from the next stop of Sagu Bay, is a great spot to stop at. The anchorage is calm and protected with good snorkling, but subject to strong currents. Anchor in 10 -15m on sand. Though uninhabited, visits may be made by local fisherman selling fruit and produce.
6.        ADONARA ISLAND 
Adonara is part of the Solor Archipelago, just east of Flores island. It has a strong Portuguese influence and is predominantly catholic, although ancient traditions are still practiced. It is one of the highest islands in the group, dominated by the volcano Ile Boleng. Farming and fishing are the main forms of income.
MAUMERE (Flores Island)

(20 – 23 August)               08⁰38S  122⁰18E
Maumere lies on the northeastern coast of Flores Island, and is the second biggest city of the East Nusa Tenggara province. As a main centre this is a good opportunity to reprovision at Roxy which sells a good range of western foods. There is also an airport for any crew changes. A majority of the population are Catholic. Maumere is also a place to use as a base to explore the surrounding district.
Places of Interest are:
Visit Waiara Beach, Kambing Island, Pangabatang Island & Waiterang Beach which is renowned for its underwater vista.
The legendary white sand of Koka Beach and the nearby village of Mau Lo'o with its traditional houses.
Bikon Blewut Museum, home to an assortment of artefacts including rare ikat cloths, stone-age tools, musical instruments, ceramic, traditional weapons and Mastodon fossil bones.
Mother of All Nations (a copper clad statue of Mother Mary) on Keli Hill, 5 km southwest of Maumere.
Snorkel or dive the marine gardens around the Bay of Maumere.
The village of Sikka where you can watch the complex process of ikat weaving.
Watublapi Village where the weaving uses symbolic animal motifs and geometric patterns.
Tiwa Bowu- a remote location inland on Flores north coast where keramba (fish farming using an interesting net system) is practised.
ANCHORAGE:

Sand bottom in 6 -20m off Sea World Hotel. Good holding closer in.
Banks & ATM, Market, Supermarket, LPG, Internet
Fuel
MAUROLE (Flores Island)

(25-28 August)           08⁰30S  121⁰49E
On the south coast lies the town of Ende and is adjacent to Kelimutu National Park making it a great place to explore the Three-Coloured Lakes. The park is home to diverse flora and fauna. Hand woven shawls and sarongs are a specialty here.
Places of Interest in the district are:
Visit the Three-Coloured Lakes on Mt Kelimutu. Each has its own colour and local name.
Onekore Village for its beautiful ikat weaving.
Wolosoko Cocoa Plantation
Bou Sama Sama Ikat Weaving cooperative in Ndona
Wolotopo Village
Wolowaru Centre of organic cashew nut processing.
Wologai Village to view traditional Lionese architectural houses. Also worth a visit for the wooden carvings and the processing of local palm liquor (moke).
Pemo & Woloara Villages
ANCHORAGE:
Sand bottom in 10 -20m, small amount of swell
Good Tourism team
9.RUING        (30 Aug – 03 Sept)         Festivities                                                                
The small remote fishing village of Riung lies off the northern coast of Flores Island in the Ngada district. This is the start of the Riung Marine Park, made up of a collection of 24 islets, with waters rich in biodiversity and beautiful white beaches. The area is famous for the 'Rose of the Sea', clusters of sea hare eggs bound together like enormous red rose petals. The park is also home to many exotic animals ie the Timor Deer & the Timor monitor lizard, as well as numerous bird species including sea eagles, bluwok, storks and parakeets. The terrain inland is mountainous with road access is windy and narrow.
Ngada district is also home to the traditional village of Bajawa with its meggalithic stone & totem structures, traditional homes and animistic religious ceremonies. It is also worth a visit for the breathtaking vistas and lush hillsides on the way.
Places Of Interest:
Explore the Riung Marine Park, both the islands and underwater
Watch a sagi (traditional boxing) bout
Explore the village of Nangamese
ANCHORAGE:
Sand bottom in 10 -20m
Market
Domestic Airport
LABUAN BAJO (Flores Island) 

Located on the western tip of Flores Island, Labuan Bajo is a fishing town, and is fast developing into the next tourist growth area. Here you will encounter a myriad of watercraft from spider like trimarans to motor boats. Labuan Bajo is popular with tourists who come here for the diving or to visit nearby Komodo Island and its Komodo dragons, there are plenty of tourist facilities such as ATM's, restaurants, stores, etc.

The anchorages in the Komodo National Park are often deep. The Park authority has installed moorings. Fees for entry into the park vary depending on the length of stay but be prepared for numerous bits of paper. Currents between the islands can be fierce, between 3-5 knots average. When wind is against the tide the straits can be rough so checking the tides before transitting would be prudent.

Places Of Interest:

Visit the Komodo Dragons in the Komodo National Park consisting of Komodo Island, Rinca Island, Padar Island plus smaller islands
Hike the surrounding hills and mountains
Explore the surrounding islands
Cunca Rami Waterfall approx 40km from Labuan Bajo
Pink Beach on Padar Island
Sano Nggoang Crater Lake
Cuna Wulang Canyon
Batu Cermin Limestone Cave also known as Mirror Cave
Visit Melo for a unique Manggaraian cultural experience including dance and arts
Wander around the ancient treasures on the shoreline of Warloka Village for a taste of Florineses history.
Istana Ular (Snake Palace) is home to an assortment of pythons and bats. Petrified trees are on view as well.

ANCHORAGE: This is a busy anchorage and there are strong currents running through the channel between town and the offshore islands.

Sand/ Mud bottom in 10 -20m off Laprima Hotel
Banks & ATM, Market, Supermarket, LPG, Internet
fuel
Tourist Office next to secure dinghy dock
Domestic Airport
Tips when in Komodo National Park
Don't walk alone. It is best to walk around with a ranger or guide.
Don't disturb or feed komodos. Despite slow and lazy movement, this animal can suddenly turn aggressive and move fast.
When trekking, please take a stick with you. Komodos are usually afraid when threatened with a stick.
Please wear shoes. Komodo, Rinca, and Padar islands have 12 types of snakes and three of them are poisonous, namely green snakes living on trees, cobras and russel's viper who live on the ground in holes on the savannas.
Women having their menstruation must report to a guide or ranger for special attention. Komodos have a very strong sense of smell and may turn aggressive when they smell blood.
Please bring along your insect repellant because this area has many mosquitoes who'll be excited at the prospects of having fresh blood.
Most lands on Komodo and Rinca islands are savannas which are prone to fire during the dry season so smoking and making fires are prohibited.
MEDANA BAY (North Lombok, Lombok Island)

  08⁰20S  116⁰08E

A majority of North Lombok's population are the Sasak, but is also home to Balinese, Chinese and a small group of Yemeni descendents, and Islam is the religion a majority follow. Medana Bay Marina, a privately owned marina, is a great place to explore the region. Situated on the north west coast, overlooking the Gili Islands. Facilities include 2 pontoons for med style mooring and 15 mooring buoys. There is also plenty of anchoring room. A dinghy dock is adjacent to the Sailfish Cafe, with toilets and showers close by. Medana Bay is known also as Teluk Dalam meaning Deep Bay

Medana Bay Marina is at: 8° 21.83'S 116° 07.75'E, (Traditional system: 8°21'50'S 116°07'45'E") and is situated at Medana Bay, Tanjung, North Lombok. The mooring basin is centred on 08°21.833'S and 116°07.750'E with an approach transit point almost due north at 08°20.432'S and 116°07.685'E. A current sea chart and sea approach tracks are available on the Marina's website.

Places of Interest:

Play a round of golf at the Kosaido Golf Club
Climb Rinjani Mountain
Explore the town and surrounding countryside

ANCHORAGE:

Sand bottom in 6 -20m
Banks & ATM, Market, Supermarket, LPG, Internet
fuel
Domestic Airport
LOVINA BEACH (North Bali)

(15 – 21 September) 08⁰09S 115⁰01E
Situated on the North West side of Bali, the area of Lovina contains numerous small villages, and is quieter than the more popular tourist destinations on the rest of Bali. The area is named after the home of the pioneer of tourism to Bali, Pandji Tisna. Dolphins are often seen in the waters around Lovina. Lovina Beach hasw great restaurants, a selection of shops and an ATM.
Places of Interest:
Dive one of the popular dive sites
Hike the area to see waterfalls and jungle grottos
Learn to cook classic Balinese dishes at the Warung Bambu Pemaron Cooking Course
A short Bemo ride away is Singaraja, one time capital of Bali.
Hire a driver and explore Bali
ANCHORAGE:
Sand bottom in 6 -20m
Banks & ATM, Market, Supermarket, LPG, Internet
fuel
KARIMUN JAWA (Jepara) (23 – 26 September)         Festivities
Karimun Jawa is an archipelago off the coast of Java and means ' a stone throw from Java'. Consisting of 27 islands it was established as a National Park in 1986, and covers 1116 sq kilometres, most of it marine. The two largest islands are Karimun & Kemujan which are connected by a mangrove forest. Karimun is hilly and steep with the highest peak at 506m. This group is home to 10,00 people, mainly Javanese but also Bugis, Madurese, Mandar, Bajak & the Luwu. The diving and snorkling are good with many shipwrecks to dive on. Drift dives are popular, but beware of the strong currents. For those that want a night out there are numerous resorts through the group. There are fast ferries that commute regularly to Java and provide an opportunity to explore the ancient temple site of Borobudur and other attractions.
ANCHORAGE: Deep & wide. Currents in the channels are strong.
Sand bottom in 20 -25m or 8 -12m tuck behind a reef close to shore
market
Domestic airport
fuel

KUMAI (Central Kalimantan) 

Kumai is a port city on the island of Borneo. The anchorage is in the river, just across from Kumai. Although roads crisscross the district, most transportation in river based. The region to the north is mainly fertile plains, with the rest of the region are wetter consisting of bogs, lakes and other bodies of water. Dance and music are an important part of the culture here, and the local calendar is dotted with numerous festivals. Kumai is home to bird-nest businesses. There is an ATM near the harbour.A visit to Kumai isn't complete without a visiting the Tanjung Puting National Park, home to a variety of animals and plants, in particular the orang-utan and proboscis monkey. The park is largest protected swamp forest in SE Asia.Places of Interest:- visit the Orangutans in Tanjung Putung National Park.ANCHORAGE:

Mud bottom
Banks & ATM, Market, Supermarket, LPG, Internet
fuel
Domestic Airport
KETAPANG ( West Kalimantan)   (2 – 5 October)           Festivities                              Situated on the Pawan River delta, Ketapung is a small capital city of the Ketapung Regency of West Kalitan, Borneo. Considered multicultural, the populace consists of Chinese, Madurese, Javanese and native Indonesians of malay and dayak descent.Palm oil,rubber & wood are the main means of income with some mining of bauxite, zircon sand & lead in the regency.You will be guided into the anchorage as there are many shallows to negogiate. Currents are strong in the river. Be prepared for a wild party you'll never forget.Places of Interest

Gunung Palung National Park
Permatang Gadung- The Peat Forest, the home of wild orang-utan
Kelenteng Tua Pek Kong- a Chinese temple
Tugu Ale-ale
Sungai Jawa Beach
Tanjungpura Royal Cemetery
SUKUDANA (Palau Karimata)         SAIL KARIMATA FESTIVAL  (06 – 09 October)                                  The Inaugural 'Sail Karimata' Festival at Sukadana. The Palau Karimata region is located just West of the Borneo in the Java Sea and is your quintessential tropical paradise with palm trees, azure blue waters and white sand beaches. The Indonesian President is set to open the festival with the rally participants the guests of honor and treated to an extravaganza of sail, sand, local foods and festival events.
BELITUNG (Belitung)         (11 – 14 October)        Festivities                                  Giant granite boulders dominate the landscape with crystal clear water & white sandy beaches. A calm, protected anchorage overlooked by a lighthouse that provides great views from the top. Restaurants line so it is a good place to enjoy the local cuisine, especially the seafood. Because tin was previously mined by Chinese coolies here, their influence can be seen in both the temples and food.Places Of Interest:

explore the old tin mining town of Manggar
visit the dam outside Gantung
try durian fruit (if in season)
Museum Kata Andrea Hirata

ANCHORAGE:

Sand bottom 10-20m
Banks & ATM, Market, Supermarket, LPG, Internet
fuel
Domestic Airport
PENUBA (Lingga)     (16 – 18 October)           Festivities                                     This village on the island of Selayar is part of the Lingga Regency this area is one of the least visited. The locals are a mix of Malay, Bugis & Hakka chinese.
BENAN (Lingga)       (19 – 22 October)                  FestivitiesAn island in the Lingga Archipelago. The people are friendly and the area has a very low crime rate.ANCHORAGE:

Mud in 10m
Basic shops
Restaurant on pier.
TANJUNG PINANG (Riau Islands)           (24 – 28 October)                  FestivitiesSecond largest city in the Riau Island group, Tanjung Pinang is the jump off point for Singapore & Malaysia. Situated on the island of Bintan, it is a growing tourist centre with a long trading history, the malay people who live here are renowned for their warm welcome and hospitality. Often seen sailing the local waters are traditional wooden sailing craft known as 'Pinisi'.Places of Interest:

Palau Penyenget Island
Senggarang Village
Jodoh Temple
The Cultural Centre

ANCHORAGE:

Good holding in mud
Fruit & fish market
Supermarkets
Fuel

This is our exit point for Singapore & Malaysia