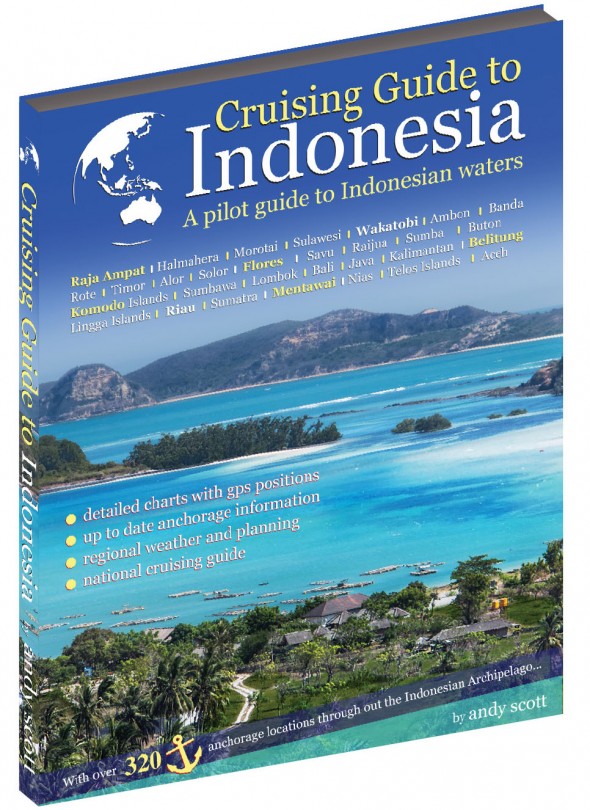 Cruising Guide to Indonesia: A Pilot Guide to Indonesian Waters 
Cruising Guide to Indonesia covers everything the prudent navigator needs to safely ply Indonesian waters and enjoy the largest and most extensive island nation in the world.
New chapters covering the Triton Bay, Saumlaki, Kai, Anambas, and Natuna areas.
Extensive updates and additions to all of our previous 25 chapters.
Detailed charts including approaches, waypoints and GPS coordinates.
Dangers, chart errors, missing islands, reefs and rocks.
Formalities, Immigration, Customs, Harbor Master and National Park regulations.
Regional weather patterns, local anomalies and currents.
Shore side facilities, restaurants, beach bars, supermarkets, provisioning and fueling.
Cultural excursions, waterfalls, wildlife, diving, hiking, climbing, day tripping, etc…
Comprehensive coverage: 304 pages thick with more than 400 anchorages.
 WITH 29 CHAPTERS THIS CRUISING GUIDE FOR INDONESIA COVERS THE WHOLE OF THE INDONESIAN ARCHIPELAGO
Available Direct from Rally Control $118.00AUD less 20% Discount for Rally Participants – (AUD$94.40 to rally participants)
Click HERE to order
___________________________________________________________________________
Courtesy Flags

High quality woven courtesy flags either in special rally packs or individually all purchases by registered participants for the Sail 2 Indonesia 2020 Rally receive special discounts and a FREE C&OC Burgee.
Click HERE to order
___________________________________________________________________________